Thank you to Youth Camp attendees for their generous donations!
Over the past number of years, we have collectively maintained the sponsorship of a child through Agape in Action. The extra money that we have raised has also allowed us to support other AinA projects. We thank everyone for the contributions that are made each year to make this sponsorship and support possible.
If each camper can earn some money by doing chores at home and bring a donation of approximately $2 to camp, that will allow us to maintain the sponsorship!
We are so well blessed in this part of the world, and it is a privilege to be able to share what we have with those who are less fortunate than we are. May God continue to bless our efforts.
Here is a picture of our sponsored child, Lilian Nguma.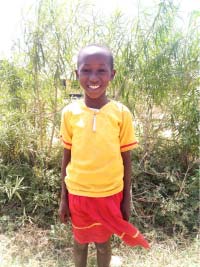 Dear Manitoulin Kids Camp,
I hope you are fine. On My side I am very fine! I am in  class four of an Academic School. I am 12 years old. Inside of school we learn many subjects. I like math, science and games. I like net ball, volleyball, and athletics. Especially long races.
Last terms examination results were very miserable. In fact, I got a total of 590% out of 600. This refers to 97.3%. Last year I was in class 3 but now I am in class 4.  I got a total of 410 out of 500. My class teacher gave me some gifts.
I like going to Sunday School almost every Sunday where I learn more about God and his son Jesus. I also like reading Bible stories and singing Sunday School songs. Actually, I am very happy for God to have chosen me for my future life academically. This is because my parents are simple farmers of which they grow food crops to enable us to survive. We are six children in my family but only three of us are in school.
Lastly let God bless you and be with that attitude,
Yours in Faith,
Lilian Nguma