Thank you to Youth Camp attendees for their generous donations!
Over the past number of years, we have collectively maintained the sponsorship of a child through Agape in Action. The extra money that we have raised has also allowed us to support other AinA projects. We thank everyone for the contributions that are made each year to make this sponsorship and support possible.
If each camper can earn some money by doing chores at home and bring a donation of approximately $2 to camp, that will allow us to maintain the sponsorship!
We are so well blessed in this part of the world, and it is a privilege to be able to share what we have with those who are less fortunate than we are. May God continue to bless our efforts.
Here is a picture of our sponsored child, Lilian Nguma.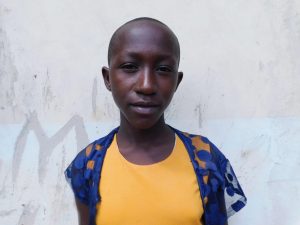 Dear Manitoulin Kid's Camp,
First, I would like to pass my lovely greetings to you. How are you all over there? On my side I am very well with my family.
Coming to the main aim, I thank you, for you have decided to help me to proceed me on academic factors. Let God bless you. Actually, I love my faith which belongs to our saviour Jesus Christ. In Sunday school I learn more about this faith. Which makes me to believe that there is life after death to who believe in it and do what God wants through his son Jesus Christ.
Lastly, I say goodbye to you.
Yours in Faith,
Lilian Nguma